Remember this??
I know I've mentioned in the past about the site What to Expect When You're Expecting,
www.whattoexpect.com
, and how helpful it was throughout our infertility issues and our pregnancy and how many great women and great pieces of advice, etc...I got and so on...well I still stop in from time to time and "stalk" as they call it and also a lot of my friends from the June 2009 (we have boards that we are moved to when we have our babies and that's the board we stay on and so when we were pregnant we were the Pregnancy June 2009 board and once we all had our babies we were moved to "The First Year" June 2009 board. get it?)have added me to their Facebook's and we email/text, in fact, that's how Nichole and I have become such good friends b/c she's a June 09 momma too :) ANyhoo.. Kelly, from June 2009, emailed me after seeing some of my creations and wanted me to make her an OSU outfit for her daughter, Rain, so I agreed and MY O MY how cute it turned out! Well, I've been waiting to see pics of Rain in it. She wanted this b/c, well this is what she said, "for my in-laws that were just down visiting. My FIL went to Oklahoma State University and my MIL likes little girls to look, what I like to call, Southernfied. Bekah searched for this fabric and also allowed me to modify the outfit as I needed to. She did an OUTSTANDING job on this lil outfit. As you can see the top ties with bows (that were OSU by the way) and the dress will be able to be worn as a top as she gets older. Rain didn't leave the hair bow in for too long but it was adorable!! Again, using the OSU ribbon. I knew my MIL would love it but my FIL was THRILLED and I just can't say enough about how happy we were with this outfit. Sooooo cute!! Thank you soooo much Bekah!"
You are more than welcome Kelly and Miss Rain is too cute in this! LOVE IT!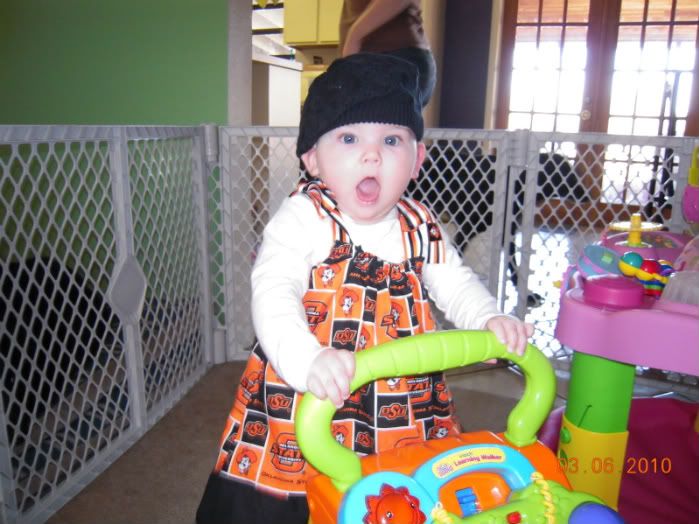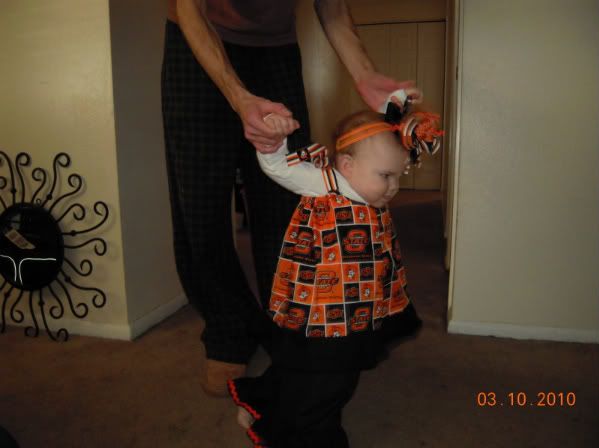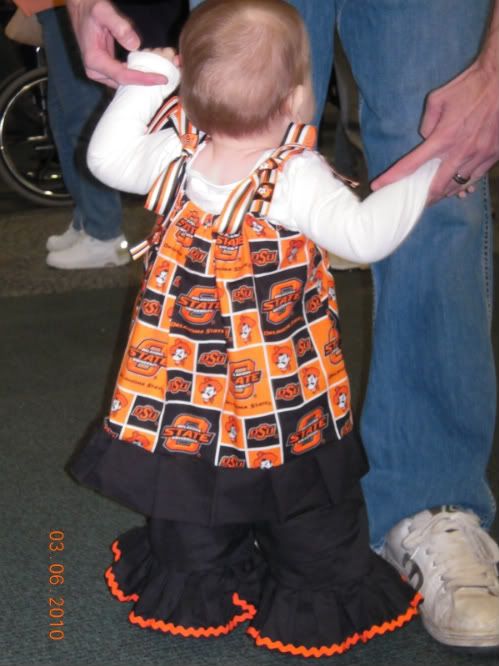 I've always thought Rain & Shelby looked similar in the face and all! She's a doll and another little June 09 Bug! THIS IS WHY I love doing this even though I do have 3 OTHER full-time jobs (being a wife,Shelby's Mommy & entertainer & workin at SAU 8-5pm Mon. - Fri.)! This is why....
~God bless,