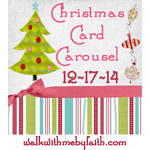 It's that time again!! Thanks soo much
Faith
for once again hosting the FABULOUS Christmas Card Carousel! I always enjoy participating and seeing everyone's Christmas cards! :)
This was THE FIRST YEAR I've not designed our own Christmas card. I feel like such a cop-out! I used Vistaprint this time and I was quite impressed, other than the slow delivery time. they turned out so good!
2014 Christmas Card- Rhett's 1st Christmas and our 1st Christmas as a family of 4!
It's surreal to see 4 of us now instead of just the 3 of us. :)
here's our past cards:
I though it would be neat to see all our Christmas cards we've had throughout the years and since I've participated in the
Christmas Card Carousel by Faith
!
What a year it's been! We JUST celebrated, well I celebrated with the stomach bug, 10 years of marriage on Dec. 11th, Shelby turned 5 June 12th, started Kindergarten in August, became a big sister when Rhett was born March 7th, she got glasses over the Thanksgiving holiday and the list goes on.... we ARE BLESSED.... LOTS to be Joyful and Triumphant about! The main reason we are so Joyful and Triumphant though is because of that joyous occasion that happened in Bethlehem that cold, wintery night.... Jesus birth. He is THE TRUE reason we celebrate and have a reason to be so joyous. Thank You Lord for sending Your Son!