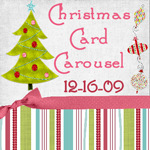 Since we are mailing out our Christmas cards today through the rest of the week, I thought I'd go ahead and show you all! I designed these myself and think they are pretty good. I wanted to use these 3 pics so it was difficult but fun!
Merrry Christmas from our home to yours!
It's hard to read, but if you click on the card it will enlarge but it says at the bottom, "May you remember the true meaning of Christmas this year, Jesus! We love you, Josh, Bekah & Shelby Kee"
Shelby's 1st Christmas, December 2009