We want to wish you and yours Merry Christmas from us (this is our Christmas Card this year!) and share our verse blessing with you as well:
From the fullness of his grace we have all received one blessing after another.
John 1:16
I just LOVE our Christmas cards this year!! Since I've sent them out, I can share them w/ you now! :) I took a pic of it and also linked up to where I ordered them from. I got a great deal on them!! I can't believe Shelby is now 18 months and our family is so different than it was a year ago...the pics in the top and bottom right corners are from April so Shelby was 10 months old but I love them so much and hadn't used them in print and LOVED how the colors match the card so well and then I took the cute little snapshot of Shelby w/ her naked baby that is always naked in front of our fireplace....simple but perfect!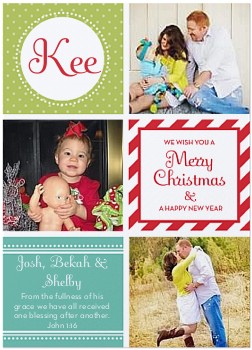 Candy Boxes Christmas Card
~God bless,