So, I thought it would be neat to make a "Birthday Box" for my blog to post the changes in Shelby since day 1!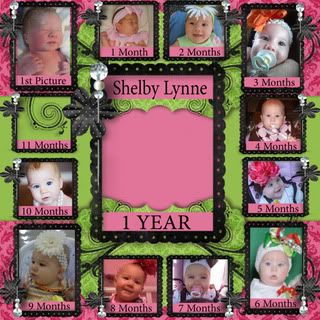 I put this on the bottom of the blog as well as on the "Shelby" page. :) Hasn't she changed?! Wow!! So, when the 12th rolls around, I'll be adding to it each time. 9 Months is next! Wow...
Josh & I are headed for a getaway trip, JUST THE 2 OF US, till saturday evening. We have been trying to do this since our anniversary (5 years on Dec. 11th) but something always seemed to happen to where we couldn't get away. We are soo excited! We are spending the night in Shreveport, LA. I love to go there! I am soo looking forward to sleepin in tomorrow too! woo hoo!! Shelby is gonna have a blast w/ Mammy & Pappy so she's in good hands! Don't worry! :) She may stay up all night long b/c she's so excited but she'll be fine! She's a "Wiggle" remember?! LOL
***OH, please continue to pray for
Layla Grace
and her family. I blogged about them yesterday. My heart is still very troubled and heavy in prayer. I try to read her
mom's Twitter updates
to get the latest news. If you aren't caught up on their story and journey, please go
here
and read and PRAY for this family. Also, there is a "donate" button on their blog and all proceeds go to pay for Layla's medical expenses so if you feel led to give, please do. I know any penny will help this family.
~God bles,