** NEW PIC'S WILL BE POSTED DAILY ***
My mother is the most accomplished seamstress I know and can do ANYTHING when it comes to sewing! I hope to only be half as good as she is one day! She came down today to help me with this HUGE project I've got going on and rocked it out! She also showed me some techniques she uses and I LOVE learning from her! :) She is amazing at this stuff! I sent "homework" home w/ her so I'll have those pic's after Thursday when she's done. Together, we finished 4 diaper bags and after she left, I finished 2 more! wheeewww... I'm soo exhausted now!
Here's some pic's of them:
(Dee Dee wanted in the pic.... silly dog)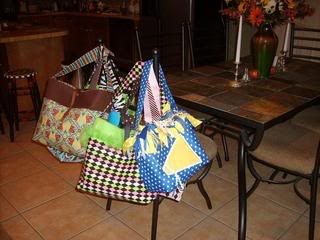 Here they are individually (I have to thank mom as well for helping me sew these up):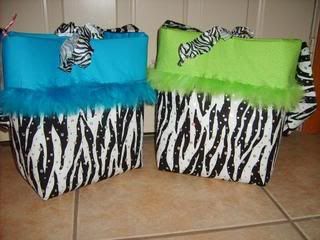 I love this fabric below ( i got it for me a while back but o well...):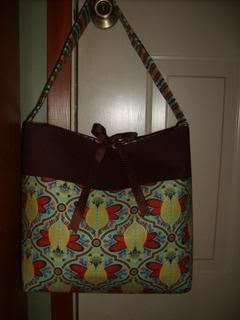 The inside:
This is the Pom Pom Cheer bag my best friend commissioned me to do for her school's little girl's cheer team. The megaphone is blank for the girls names to be monogrammed on them. I love how this bag turned out! It's the perfect size for little girls!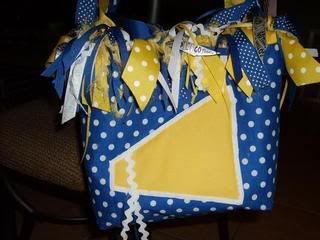 WHHHEEEEWWWWWW... I'M TIRED!!
We've got a HUGE day ahead of us tomorrow also. Since my hubby's birthday was Wed., the 24th and we couldn't celebrate w/ all the family during the week, my mother-in-law planned Josh's b-day party tomorrow afternoon. His brother, Jeff, and his family, my mom & dad (back again) and then Josh's parents (well and me and Josh...haha) will all be there. I love it when we all get together! Then, Josh and I are singing at church tomorrow night so I'm pretty stoaked about that because we haven't sang together, as a special, in FOREVER. I love singing with Josh. ;)
He's still at the SAU Football game, is skipped that today to sew. I'm soo tired....
Have a great evening!
~God Bless