I'm Back! We had a delightful time camping ALONE! Bear w/ me..this will be a long one... Here's some pics from our lake trip and how beautiful it was:
We stayed at Rocky Point right outside Texarkana, Texas and it's now become one of our TOP favorite places to camp! I grew up in T-town and had never been to our lake, imagine that?! lol...
This was our campsite & our trailer:
This is our view as we walked out of our trailer: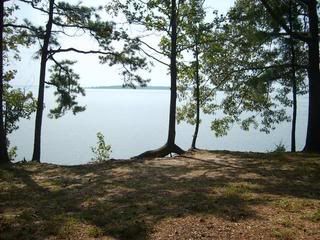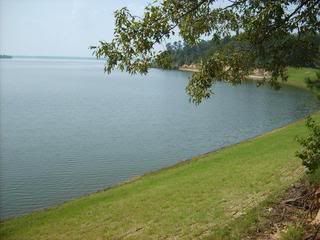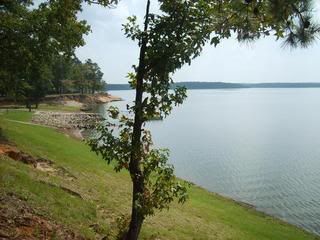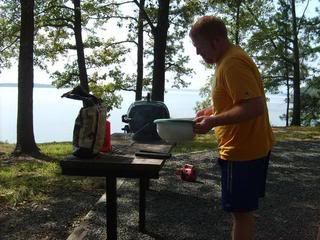 *********I ALMOST FORGOT TO POST THESE! These pic's above are also one of my favorite things, my lovely husband, Josh, and his wonderful Grilling! He's smoking us some FABULOUS ribs for dinner in these pic's. They were awesome! He's a great grill master! I'm very fortunate, unlike my waistline! lol...
Isn't God's creation beautiful! I really spent this weekend re-evaluating my priorities in life and re-centered my focus on Him and my husband. Josh and I had a marvelous time and thanks for all the warm wishes that we would! We spent ALL day Saturday fabric shopping (yes! he went with me and helped me coordinate!), went to Books-a-Million and read peacefully together, went and saw a movie and then had a lovely dinner ALONE! Some times people think that just because we don't have kids yet that we spend a lot of ALONE time together but actually, it's rare that we are alone doing things, believe it or not! This weekend was truly a treat!
I also got to do one of my favorite things, sew! I got some sewing done at the lake and then last night! I finished two diaper bags and one checkbook cover.
This diaper bag was for a lady who's son's name is "Casen." I really like this name!
My mother-in-law commissioned me to do a diaper bag for a lady she teaches with who wanted one for someone she knows having a baby. She said she loves the Dallas Cowboys and the baby is a girl so this was the best I could do. It turned out better than I thought! I love the silver ribbon tie!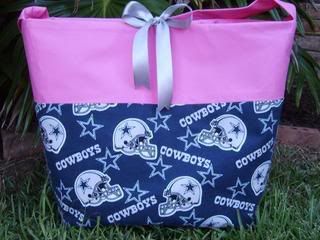 Here is Jenn's checkbook cover. The initials are "J H D" and the red isn't that orangy. I'm not sure why it appears that way but I think it's beautiful! I took advantage of the BEAUTIFUL scenery that we had at the lake to photograph Jenn's cover (didn't realize till today that the tree branch cast a shadow on it.. sorry :( )!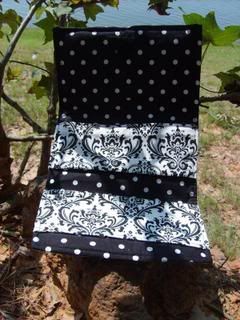 My next, favorite thing: DECORATING! I love love love to decorate our house, especially for holidays or seasons! I don't do any decorating for Halloween but I do decorate for fall! I got a little more creative this time and used feathers and raffia (SP?) and a lot of colors that compliment our interior colors. I love the fall and so I went ALL out this time! LOL
This is a picture of my crystal chyrio (sp? i never can remeber how to spell this word) cabinet that doesn't have much on it but I won this clock last year at an event and love to showcase it:
This is the centerpiece on my coffee table:
My dining room table centerpiece:
This one is one of my favorites! This is on our kitchen island as it's centerpiece: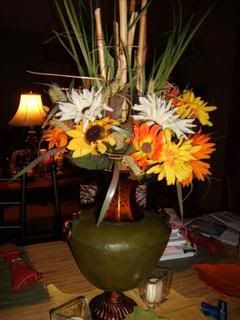 This is one of my finds from my yearly Home Interiors Party, the Pumpkin Tricycle. I love it! It holds a tea light inside it and illuminates the whole mosaic pumpkin! It's gorgeous with the lights off!
And last but not least, our mantel. I always have fun decorating our mantel. I did add some feathers to the tallest red vase to the left that I found while we were four wheeler riding yesterday. LOL... hey, gotta work on a budget now! The feathers are gorgeous though! Josh's dad said they're turkey feathers but anyway, I'll post pic's of them tomorrow maybe but anyway, here's my mantel decor: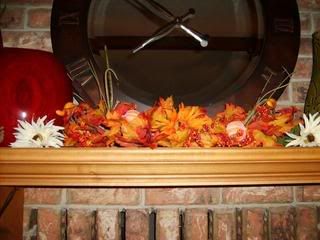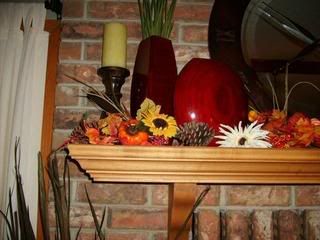 Wheewww! That's a lot to update ya on but I wanted to share some of my favorite things from this weekend and all that went on. Oh, one thing that's NOT on my favorite list is an addition to my accident-prone-self list. Haha.. I hurt my right big toe nail REALLY BAD yesterday while I was sewing. I stubbed it, get this (only I can hurt myself WITH MYSELF), on my left barefoot heel and bent the toe nail halfway back and it hurt like no bodies business and bled so today, I'm wearing summer flip flops, that do match my outfit, and have it all band-aided up. Ugh... I tend to hurt ONLY my right side for some reason but made up for that w/ a gashing papercut on my left ring finger. :( ugh.. I need a bubble to walk around in!
LOL
Hope you all had a great weekend and that you have a wonderful week!
~God Bless