Good morning... *yawn*
I was bound and determined to sew last night and even though I had no idea when my dear hubby would get home (he's got A HUGE function tonight and worked late last night to prepare for it) and I didn't want to be in "my room" (I have taken over one of our guest rooms as my sewing room that I will soon be kicked out of because we're going to remodel it and I'm not really sure where I'll go now that I think about this...hmm..anyway... FOCUS BEKAH FOCUS)and be all knee-deep in my sewing to ignore Josh and his needs. SO, I decided that I needed to make something for me. *GASP*... I've never made anything for me! Wow...it took a lot and yes, I did post pic's on my myspace and on here because this was too easy not to sell and make for others! I decided to make a checkbook cover w/ an overlapping flap. Ok, on the pic's it shows a ribbon tie, well I changed that because that's too much work to tie and untie every time so I took the ribbon off and just added the bow as a decoration on the outside flap. SO, in the tied-off pictures, it still looks like that, it just doesn't tie but velcro's instead! :) I love velcro. I wish cute shoes were made using it instead of those granny shoes...haha.. ANyhoo.. my thoughts are wandering today in case you can't tell..haha..I also kinda wish I would have made the pocket parts in the pink and brown tiger inside instead of the same brown and pink dots but oh well...this was a test and I think I passed!
Have a blessed day! Here's MY creation. I just figured this out on my own so it's rough but OH sooo cute to me! I have this fabric laying around and it's my favorite (for the time being) so I HAD TO use it!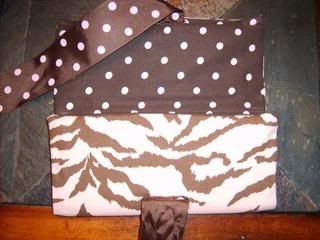 God Bless....