Ok so I know the title made you laugh... haha...
I found these GORGEOUS feathers in the deer woods yesterday while riding four-wheelers w/ Josh and my in-laws; we were scoping out to see if any deer had been in their hunting grounds. I think they are simply GORGEOUS and found one at first then 2 more the longer we rode. I couldn't resist sticking one in my ponytail like Pocahontas and yes, I did wear it for a while until I almost lost it on a low tree branch then I took it out because I could not lose my treasure! I was soo excited to fine 2 more because when I decorate, I always decorate in 3's! That's the college art degree in me! 3 is better and more co-hesive than 1 or 2 or 4. Just more eye-appealing. :) Guess I did pay attention in class! hahaha. Anyway, the question at hand is, what kind of bird did these come from?? My father-in-law and husband say they are from Turkies!? Are they?
Ok, a little background on me and my fear of turkies. When I was 6, we went to the fair, like we always did, and visited Old McDonald's farm and I was attacked, yes, attacked by a white turkey and to this day, I'm terrified of them! Haha...so, to get my revenge on the children-attacking turkies of the USA, I decided to use their feathers as decorations on my mantel. :) haha.. my job here is done!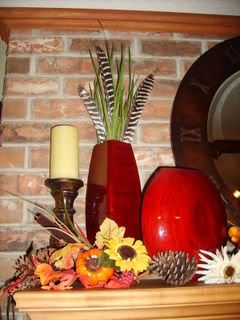 ~God Bless