So today (Sept. 24th) I celebrate 2 birthday's, my husband's (he turns 29 today!) and my LITTLE brother's (yeah, he's younger but looks older! He turns 22 today)! I hope you both have a great birthday! What's cool is that not only do my brother and husband share the same birthday, but me and my brother's girlfriend, Jessica, share the same birthday (Feb. 9th)!! Isn't that wild?! I've only met like a few people that share my birthday and my brother is dating one of them! haha...
My hubby, Josh (this pic was taken of us at Christmas at SAU's Foundation Gala, where Josh works here on campus):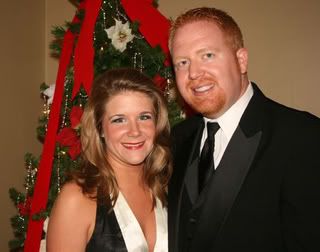 My little brother, Jonathan and his girlfriend Jessica (I love this pic! It is his personality TO A "T"!):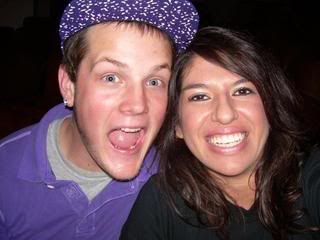 Last night, I finished cutting out some diaper bags I'm starting on and my back was killing me so I decided to start playing around with making some more bows for friends and just to have to show and I came up with a purple and white pawprint bow, which could go for the El Dorado Wildcats (which I didn't go to school there, but I wanted to use the purple ribbon) or it could go for LSU. Do you know how hard it is to match the TRUE LSU colors? Ugh...it's insane! I'm working on an LSU Bag and outfit so I thought this bow would do to match the outfit. It's just tough finding their gold color b/c it's not yellow like most think....anyhoo....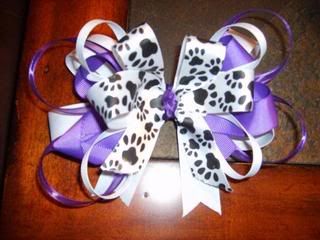 Then I played around with one of my favorite color combinations, Pink and White (GO PHI MU!!! That's the sorority I'm an alumnae for), and I just LOVE my little cupcake ribbon so I added that. Of course, I had to throw some ric rac in there. LOL.... I think it turned out cute!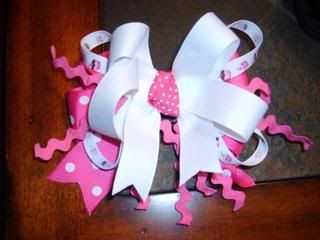 All of my bows are hand-sewn and constructed with very minimal gluing (the barrette is really the only thing mainly glued). I love making bows! My mom made a bow for EVERY outfit I ever had, SERIOUSLY! I remember having one for Halloween one year that glowed in the dark! LOL...
Have a blessed day and Wish my brother and my hubby Happy Birthday if you see them! :)
~God Bless