What cha think of the new background? I finally found one that has all my favorite colors combined and not to mention the fact that I LOVE cupcakes! :) haha... I just wish I had some cutesy page title thingy. Maybe that'll be next...who knows... I've got a lot on my plate as is! haha..
well, here's some upcoming projects that I'll be working on soon:
a Laptop bag w/ a messenger bag-like side strap and flap in this beautiful fabric
(**NOTE: This bag pictured below is for sale. Message me for details
):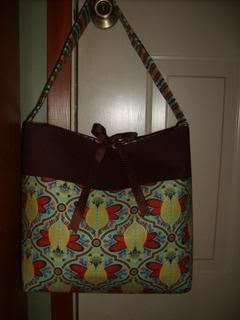 Girly Standard Diaper bag w/ matching Mommy cell phone/chapstick case out of this fabric!! I am stoaked about this one because I JUST FOUND OUT that they make my favorite print in pink and brown and you all know how much I am in love with the blue and brown:
Beautiful Standard Diaper bag out of my 2nd favorite fabric combinations, Black and White Damask w/ Hot Pink:
And maybe by the time I get all these done and shipped, I will know if I should start making blue or pink items for Baby Kee! Either way, I think I want to use brown with either color. :) It's gonna be so much fun making stuff for myself. I may have to take a break from orders. Naaahhh.... those are too much fun to do! :) I'm sure I'll be trying to sew up until I go into labor! haha... I'm thankful I've gotten my two HUGE orders out of the way! OH, here's pictures of the Oklahoma Outfits I did for my Dr.'s wife to give as Christmas presents to her family; each one (5 outfits total) came w/ a dress, ruffled pants, 2 hair bows and a teeny tote to match; a lot of hours behind the machine:
Dress:
Ruffled Pants:
Hair Bows:
Teeny Totes:
All 5 of them
After I finished all these basically in 2 DAYS, I then started on the Pom Pom Bags for my best friend who needed 9 of them. I posted earlier about them
here
.
Well, there's my update! OH, tomorrow...be looking for a Baby Kee Update!
~God Bless