Ok so Blogger didn't publish this post when I TOLD IT TO and this has happened numerous other times so does anyone have any tips?? I usually write my posts to be published prior to the actual day it's to be posted. It's always works but lately, it's not workin out right.....anyhoo....
Wowza!! I am a tutorial diva and LOVE THEM! I am a visual creator so if you hand me a pattern, it takes me FOREVER to make something but if you show me and/or send me pics of something, I can figure it out and crank it out in no time at all! I guess that's the artist in me! My mother loves patterns and me, I can use them and have gotten better at using them, but they stress me out and give me a headache! LOL too much pinning, cutting & blah blah blah.... :) wastes my time! :) LOL....
Ok, so my first AWESOME tutorial that I found at
My Junk Drawer
.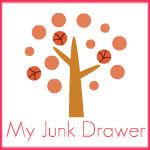 Kristen blogged about this AWESOME Christmas wreath that
Just a Girl
did a tutorial on and thought it would be great to showcase today!!
Go
here
to learn how to make your own SIMPLE awesome wreath that would cost a small fortune in a store!
The next AWESOME tutorial I think is worth featuring is from
Naptime Crafters
and is for an ADORABLE Turtleneck Dress.
ISN'T THIS SOO CUTE?!!!
And last but CERTAINLY not least, is a tutorial from
Ucreate
. She featured this tutorial from
Brown Paper Packages
and it's just too cute for words!
I JUST LOVE personalized things that are EASY to make!

Ok well that's it for today and I'm in love w/ all these items! WHENEVER things slow down, I HOPE to make them for my own! :) LOL... Ok, well back to cleaning, laundry, packing, OH MY... :)
~God bless,