We had a wonderful appointment yesterday! Going into yesterday I was a nervous wreck flooded w/ all the "what if's" and "what could happen" and just really doubting God's blessing. However, all that changed when we saw this: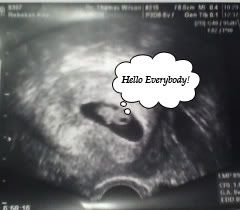 3D ultrasound
WE SAW THE BABY!! Baby Kee is exactly 1.65cm long, about the size of a pinto bean, and is the cutest tiny thing I've ever seen! We also saw the heartbeat flickering! We didn't get to hear it but we saw it! We go back Nov. 25th for our next appointment where my Dr. said we'll hear the heartbeat! I will never forget yesterday. Seeing our baby for the 1st time w/ Josh is a moment I'll cherish forever and seeing him/her move around was insane! I thought I would cry, but all I could do was smile and be in awe. We were also thrilled to know that there is just ONE BABY in there! Haha.. Josh's office was betting on 3! OMG.. no no.... He also checked both of my ovaries and said they looked wonderful. Yesterday was a blessing and I can't stop looking at our little pinto monkey. Oh, he also did a 3d ultrasound and it was AMAZING! I think the baby looks like a monkey on the 3d one! haha.. but adorable!
Thank you all for your many prayers and words of encouragement! This is real now.. no more doubting....
~God Bless