:)!!! Hee Heee!! We've known for 2 weeks now but had to tell our family first. We told them Saturday night. We had a nice sit-down dinner and then presented them with pink and blue balloons tied to a pacifier. They were soo excited!!
My parents:
Josh's Mom, Mammy: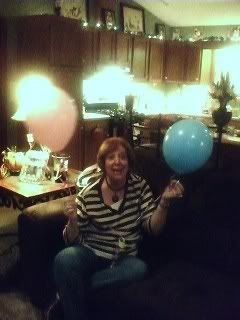 I'm almost 7 weeks and we go Oct. 29th for our 1st appointment and ultrasound!! I've been SOOOOOOOOOOOOOOOOOOOOO sick ever since off and on all day EVERY DAY and soo tired but it's all worth it! God is soo good and I see His hand in all of this from the beginning now. :)
I just can't believe that we're pregnant! :) Josh is soo excited! He was out of town when I found out (Oct. 6th) so I went and bought him the Willow Tree, "New Dad" figurine and had it all wrapped up nicely and stuck all 3 PREGNANCY TESTS, yes, I took 3 in one day and another last week so that makes 4 total, in the ribbons and he was just floored! He is soo proud. Since we told everyone this weekend, he FINALLY gets to take his figurine to work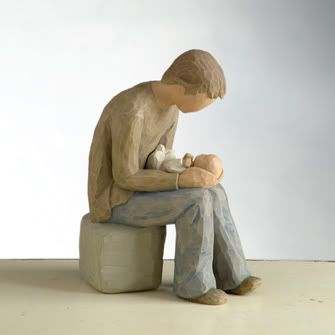 As of now, we're due sometime in June. Thank gooness b/c I can't handle late summer heat! :) LOL...
We are truly blessed..it was almost a year to the day that we had been trying when we found out that we are pregnant. Please pray for growth and a healthy pregnancy. All the "what if's" have been haunting me and since we've not seen the baby yet those fears are ever so present. I just had to share w/ y'all! It was all I could do to hold it in this long!
~God Bless