So Josh and I are extremely close to 2 couples and one of them lives in Crossett, Arkansas that's about 2 hours away. Wes & Josh have been best friends since college and are JUST ALIKE, seriously! So, it's only natural for him to marry a wonderful woman who's just like me, and HE DID! :) HAHA.. Ashley and I are very similar in almost everything and even though we don't see each other or physcially speak to each other every day, we do email and chat almost 4 times a week. We love them dearly and miss them too. We always TRY to celebrate birthday's, OH and Josh and Wes' birthday's are 5 days apart and Me and Ashley's birthday's are 1 day apart! :) hee hee.. WE ALWAYS celebrate Christmas SOMETIME in December or January together and go eat and exchange gifts w/ one another, which by the way, Ashley and Wes have pretty much decorated our ENTIRE guest bath! I collect crosses and that's where they go! I'll take a picture someday of that!
This couple is very special to us and so I wanted to share them with you! This is them this past week in Nashville, TN w/ YES, THE LEAD SINGER FROM ALABAMA, Randy Owen!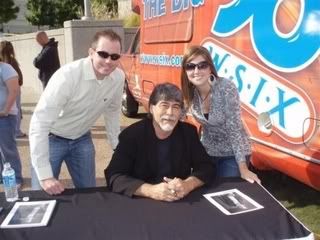 Love you guys! WE NEED TO GET TOGETHER!!!!
~God Bless