When it rains, it pours FOR SURE it seems lately... Sooo many people I know are either pregnant or having their babies like wild fires! I LOVE LOVE LOVE to make special creations for friends. Since I've been sewing, it's been soo meaningful and a blessing to my heart when they receive their gifts or their orders and love them! A girl I went to high school with, who's pregnant and best friends with a girl me and my husband went to college with, received one of my diaper bags as a baby shower present, so I just saw today! SMALL WORLD! SHE LOVED IT and I must say, it's one of my favorites! I had no idea it was for her until a friend told me at dinner Thursday night that it was for her! haha! wow! Here's pic's of her bag and her receiving it at her shower ( I took the pic's from her myspace page...haha):
**She comments: "Chad was a little sad we didn't get Direct TV."
Haha, I can't believe my friend kept it in the box I shipped it to her in! haha.. how funny..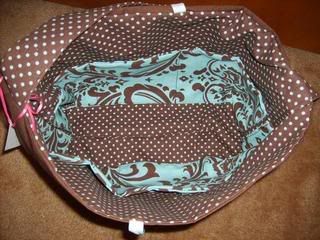 Oh, and this bag below, the "Rylee" bag, this lady who this was for, who's also a friend of my college friend, just had Rylee this a.m. at 11:10a.m.! :) wow!! I love this bag for a girl and I'm not even a person who likes purples! haha...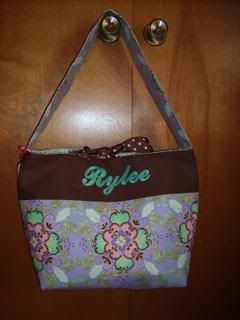 Just wanted to share in my "Wow!" for the day...I needed this today...
Please pray for me as I'm going through an immense valley and struggle of doubt and uncertainty in my life right now. I feel God at work and I also feel some changes are about to be made in our lives and we all know I love my comfort zone. God is in control of ALL of this in our lives right now and where He leads, we will follow even if it is outside our comfort zones... Love you all...